This is a Tour and We're on It, Part II
When I last posted we had just finished our show at emos Austin, this was a wonderful show, we liked Austin so much that we stayed an extra day and went to the Whole Foods mothership twice.
we stayed with our lovely new friends Reena, Rico, and Ajay (not pictured)
Our Mexicali show was cancelled and our Denton show got hit with a tornado (literally) so we had a whole 6 days to get from Austin to San Francisco. So we did what any reasonable group of self respecting rock musicians would: VEGAS!!!!!!!
we were impressed with how pretty texas was
We went to Stein's Ghost Town and met some donkeys and friendly people.
eric: When you suck the marrow of life you are battered by it.
jeremy: When you suck on the bones of life you get a face full of marrow.
It's a long drive:
Stopped over for a good time in tuscon.
Ate some Trail Mix
sammy: Today I was told for the second time that I look "like a little doll." Jeremy speculated that perhaps I am indeed a doll that has come to life.
Las Vegas was amazing: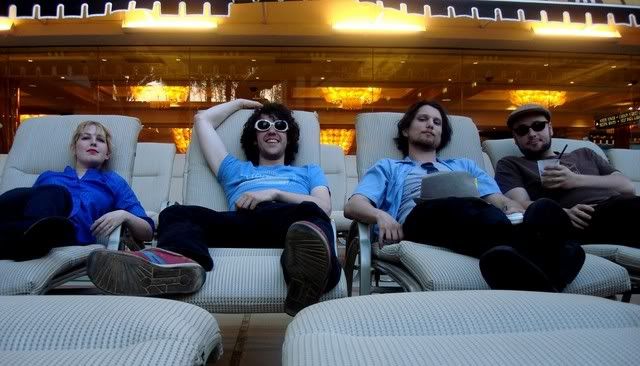 We lost some money on the "Wheel of Fortune" slot machines, but it was money well wasted.
We also went up to the Stratosphere:
There was a shark tank with a slide through it:
Quotes:
sammy: I decided that I won't ever sign to any record label that doesn't refer to a feline in its name. i.e asthmatic kitty or fat cat.
sammy: we passed lots of joshua trees today and cacti that looked like cartoons.
friend quote: I'm going to run to the supermarket. I don't know why I said that, I'm actually going to drive to McDonalds.
jeremy: "I wouldn't drink puke but I'd get cut to see nakedness"
Tonight we get back down to business. With 11 shows straight back to brooklyn hope to see you!
Remaining dates:
Tuesday 5/1/07 @ The Make Out Room - San Francisco, CA
Wednesday 5/2/07 @ Record Club - Sacramento, CA
Thursday 5/3/07 @ Silverlake Lounge - Los Angeles, CA
Friday 5/4/07 @ Che Cafe - San Diego, CA
Saturday 5/5/07 @ Scene Bar , Los Angeles, CA
Monday 5/7/07 @ Brooks Center Arts, Denver, CO
Tuesday 5/8/07 @ Replay Lounge Lawrence, KS
Wednesday 5/9/07 @ The Way Out Club - St. Louis, MO
Thursday 5/10/07 @ The Darkroom - Chicago, IL
Friday 5/11/07 @ The Dreamland Theatre - Ypsilanti, MI*
Saturday 5/12/07 @ The Parish Hall - Cleveland, Ohio*
* - w/ Double Dutch Will Take You Higher



****

Monday 5/14/07 Homecoming Bash @ Luna Lounge

- Brooklyn, NY



w/

Salt & Samovar

+

The Shivers

+ Double Dutch Will Take you Higher

****
buy tickets!!!!