4.25.2007
This is a Tour, and We're On It.
DC:
The Lisps tour started brilliantly. A humble but enthusiastic crowd.
Winston-Salem:
On our way to Winston we got stuck in a 4 hour traffic jam because a fuel truck blew up and melted the pavement on I 95. We started going crazy so we took some pictures and wrote these poems:
Dear Molten Asphalt,
It's brilliant that you're here.
Waiting for us.
Maybe your liquidness is just a fancy dress.
Maybe your color is just a pose.
I hope to be with you at a later date.
We should meet.
I'll wear red pants, and a sheathed knife on my belt.
I'll bring you some old medicine bottles.
Hand blown.
I'll always remember your love for any thing hand made.
I'll bring you some flowers or more persistent plants,
Like grass or kudzu.
I miss you.
With Love, Cesar
dear advertising truck collie
you are bigger than most
collies. I fancy I can smell your breath.
It is a big breath, dense and wet.
I sink into it like a rickety pickup truck
Sinks into the molten highway.
Does the driver of your truck love you?
Where do you go when you slip
Into the upper hemisphere of your world?
I hope it is like the house of god in
There but less corrupt looking.
We'd be in Greensboro now
if I had done the booking.
Sincerely, jhoo
Dear Musical Station wagon,
The industrial musical revolution is taking place inside your engine block.
The industrial musical symphony is taking big breaths from a tin can in your heart.
Your industrial wheezing is a cacophony of bent steel and rusted upholstery
You look like one can bouncing between and rusted barrel and a broken slinky.
You are hotter than two robot mice making love in a tiny space ship hurdling towards the sun.
The industrial musical revolution is rising to its inevitable rattle trap apex just behind your burnt out left head light,
Keep up the good work,
Sincerely, a fellow musical Station Wagon.
Dear dead man who burned in the truck
On I 95.
Your white skin divides the lanes.
Your black shoes color the pavement
Maybe your hair sticks to the street like roadkill tail.
Or attaches itself to the branches on the trees like a bird's nest.
Your mother loved you and so did we.
Love,
Sammy
Dear Little Debbie snacks,
You were only twentyfive cents.
Why?
Your chemical cotton fiber cream-filled sweet treats were on
The shelves too long, perhaps.
Were you waiting for us last night?
As you were in our lunch boxes nearly 20 years ago?
Twenty years ago and I can still remember what I ate for lunch.
How I ate you first, and then cleaned my teeth with carrot sticks.
You nourished us last night, and we thank you.
Love,
The Lisps
Tobacco town treated us quite well. Lots of beer, and beautiful people. Senryu rocked and Ear Pwr was amazing:
fan quote: "Winston is where asheville was 10 years ago"
Greensboro:
My hometown, always so sweet. Green and gentle. We played outdoors for a lot of folks, some teenagers and babies. We played a show later that night with old and new friends.
fan quote: "This is the best live show I've heard in Greensboro in a long time, maybe ever. I'd buy a CD but I just spent all my money on some of that Latino food or whatever."
Band Quote: "The Lisps: Turning the strongest of men into women of medium strength"
Chapel Hill:
We played a house show at The Family Room. Sweater Weather stole our hearts and fed 3/4 of us meat pie.
(video to come)
fan quote: "Your songs make me love myself"
band quote: "Sex messaging can wait"
Greenville:
Greenville is a very strange little town, but the Spazzatorium Galleria is an amazing DIY piece of work. We talked to Ferocious Eagle who are truly ferociously good. (they're also friends with my secret crush Laura Gibson)
ferocious eagle:
next door to the spazzatorium:
band quote: "Country Doctor Museum"
band quote: "Greenville kind of looks like someone ate a college town and then barfed it back up"
Asheville
: This was our first chance to really bond w/ Senryu we all made merry and drank and danced. This was also our first show that was um...sparsely attended....but we all went crazy dancing and playing. I took some sweet melodica solos with senryu. This might have be the most fun show ever.
Knoxville
: Senryu's hometown is a tennessee dream. Electric Ballroom was a HUGE venue and we met many cute knoxvillians including Matgo Primo.
band quote: "Because you are You, you have the tendency to think that everyone else is also you"
Athens
: Athens was a raging volcano of a success. Effie's Club Follies was so sexy that I had a stomach ache for 2 days. We ordered three huge pieces of mint chocolate chip cake and made ourselves sick.
here
is a great gallery of our set and Shitty Candy
fan quote: "Ya'll are the nicest people ever"
Atlanta
: Family BBQ during the day, where we played for our biggest fan: my Grammy. And then we raced off to play at the 11:11 tea house. This was a sleepy spot but the vibes were very nice and our pals magic apron were wonderful as always.
Senryu joined us for a rousing pepperspray hootenanny...but alas, after 6 shows together we had to bid farewell to our fine young friends. I filmed this before they left us:
senryu:
grammy:

New Orleans
: It's worth noting that on the way to NOLA we stopped for lunch outside mobile, Alabama. We went in for Piccadilly Cafeteria, which was a childhood staple for me. I feel confident saying that this was a very disgusting culinary experience. Jeremy even suggested that we had actually died there and everything that happened in New Orleans was just part of the afterlife (which would explain our surreal experiences in America's most wonderfully bizarre city)
I think this picture will speak better to our new orleans experience than anything I could say: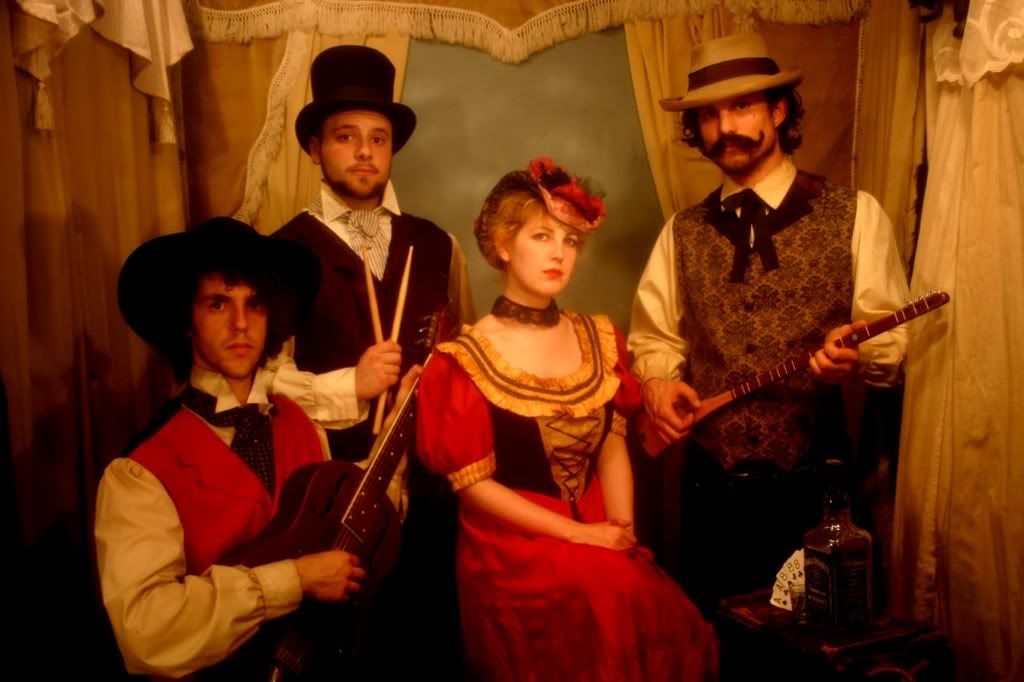 After our show a Neutral Ground me and Sammy did a late night set at Mimi's which was a dream. Parisian waltzes dancing through old curtains and open windows.
Luke Winslow-King:
umm ladies?
fan quote: "Honey you look like a little doll enjoying yourself up there. Just like a little doll"
bands we've played with so far:
Senryu
Jew(s) & Catholic(s)
Ear Pwr
Eyes to Space
Physics of Meaning
Sweater Weather
Ferocious Eagle
Arms and Sleepers
Matgo Primo
Effie's Club Follies
Shitty Candy
Magic Apron
Luke Winslow King
Hello Lovers
Skye Eye
remaining dates:
Tuesday 5/1/07 @ The Make Out Room - San Francisco, CA
Wednesday 5/2/07 @ Record Club - Sacramento, CA
Thursday 5/3/07 @ Silverlake Lounge - Los Angeles, CA
Friday 5/4/07 @ Che Cafe - San Diego, CA
Saturday 5/5/07 @ Scene Bar , Los Angeles, CA
Monday 5/7/07 @ Brooks Center Arts, Denver, CO
Tuesday 5/8/07 @ Replay Lounge Lawrence, KS
Wednesday 5/9/07 @ The Way Out Club - St. Louis, MO
Thursday 5/10/07 @ The Darkroom - Chicago, IL
Friday 5/11/07 @ The Dreamland Theatre - Ypsilanti, MI*
Saturday 5/12/07 @ The Parish Hall - Cleveland, Ohio*

* - w/ Double Dutch Will Take You Higher

Monday 5/14/07 Homecoming Bash @ Luna Lounge - Brooklyn, NY
w/ Salt & Samovar + The Shivers + Double Dutch Will Take you Higher
buy tickets!!!!

(fyi our mejicali show has been cancelled by the venue....we are so sorry to all of our lovers in mejicali)