Jargon is free now
myspamous
- [adj.] posessing fame gathered (legitimately or questionably) on Myspace. This type of fame is often:
illusory
unfortunate
unintentional
intensely sought-after

purchased
not translatable to monetary gain or real fame
just fake
a corporate advertising scheme
momentary

read about in articles that have this sentence "due to the popularity of social networking sites like myspace blah blah blah"

The only documented use of the word "
Myspamous
" is by
Betty
on the myspace page of "
Golden Ax
" in the "
comments
" section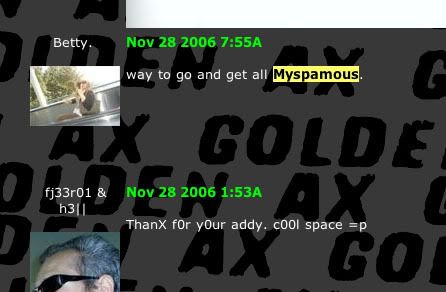 update
: new documented instance of Myspamous on the
private
myspace blog
200 Bars/ 06' Ether
"I need a beat to rock to. Since these cats wanna make me
Myspamous
, I guess I gotta show my thanks. Loan me your eyes for a few minutes walk with me and peep game..."